As your child progresses in their primary education, they'll be expected to draw on what they've learned in previous years to move forward in maths, English and science. Whether you're looking to bone up on past concepts or get a sneak peek at new ones, you can help your child prepare for Year 5 by knowing what they're likely to be taught.
Year 5 maths
Children in Year 5 will be expected to be confident enough with addition, subtraction, multiplication and division to know which one to use in what situation.They need to be confident in their methods for using all four operations with larger numbers (three digits and then four digits). They should also be able to see how maths fits into everyday life, and other areas of study. 
Children will be learning about fractions, decimals and percentages. They will need to calculate the area and perimeter of different shapes.  Children will need to solve measurement problems that involve converting between units of measurement. They will learn to draw and measure angles and also calculate the size of missing angles. They will need to interpret information in line graphs and tables.
Our Year 5 maths parents' guide offers a more detailed look at the curriculum.
Practice makes perfect! Use our free Year 5 maths worksheets to review times tables, fractions, percentages and more.
Year 5 English
In Year 5, children will read a range of different genres. They will continue to use their skills of inference of characters' motives and feelings and will start to think about figurative language and how it is used. They will learn to spell a variety of more sophisticated words with different prefixes and suffixes. 
When writing a text, they will carefully select vocabulary (including adverbs) and use a variety of presentational devices to structure text (including time connectives). They will use a range of punctuation correctly, including brackets, dashes and commas.
Read more about the Year 5 English curriculum in our introductory guide.
Help your child with spelling, punctuation, and even writing poetry by downloading our free Year 5 English worksheets.
Year 5 science
This year, children will learn about:
Living things and their habitats, including lifecycles of a mammal, amphibian, insect and bird.
Animals including humans, focusing on changes from birth to old age.
Properties and changes of materials, including dissolving, separating and reversible changes.
Earth and space, looking at the movement of the sun, earth and moon.
Forces, including gravity, air resistance, water resistance and friction.
Our free Year 5 science worksheets can help your child consolidate what they're learning in class; the Year 5 science curriculum is examined in more detail in our guide for parents. Download and print them for free today!
Know what to expect with SATs and more in Year 6 with our helpful summary, and make revising for Key Stage 2 SATs easier by running through the highlights of what your child learned in Year 3 and Year 4. Or, go all the way back to the beginning to see how far your child has come by reviewing curriculum targets for Reception, Year 1, Year 2.
Year 5 Booster packs in English and Maths
From apostrophes to spelling mnemonics, prefixes to synonyms, the Year 5 English Booster pack is bursting with revision activities to help consolidate and build on your child's literacy learning. And there's plenty of cutting and sticking, word searching, thesaurus checking and script writing to be done along the way!
Rounding speed challenges, zoo subtraction problems, spotting square numbers and a little bit of pizza maths... it's all included in the Year 5 Maths Booster pack, designed to help your child practise and revise the key KS2 maths skills they've learned at school.

Discover a unique learning programme for your Year 5 child
The Learning Journey programme covers all the core areas of learning your child will be expected to master in English and maths during Year 5. Work through the 40 worksheets that comprise each programme in order, or pick those that cover topics you know your child is struggling with, and by the end of the school year you can be sure your child's learning is on track. You can also get your child to take a Year 5 Progress check.There are six Year 5 Progress checks (one for each school term in English and maths). Each Progress check includes questions on the areas of learning that your child will be covering in that school term. Just get your child to take the test, then check the answers we provide and you'll see straight away if your child has grasped each of these learning skills.

Grammar Made Easy
Grammar Made Easy is for every parent who wants their primary child to do well at school, to see them gain top marks for grammar and punctuation and use language as a door to future opportunities.
Each chapter of the eBook focuses on a specific area – such as tenses or apostrophes – and provides clear, simple explanations of rules to remember, plus examples of what's right, what's wrong and why. Then, there are quiz questions to recap and check that your child has understood everything.
Once you've got your copy, you'll be able to:
Make sense of every grammar rule
Boost your child's ability to write and speak
Play games and quizzes to reinforce learning
Help your child achieve great results in their English SATs
Set them up for success with foreign languages
You don't need to be a grammar expert to help your child to become confident in English!

A Parent's Guide to Secondary School
Starting to think about secondary school? A Parent's Guide to Secondary School takes you through everything you need to know, from deciding which schools to apply for, through the application and appeals process, to supporting your child in the first weeks and months in their new school.
The expert advice and practical tips from parents contained in these pages will ensure that you are able to help your child prepare for this exciting new chapter in their life, and that they begin secondary school feeling confident and supported both practically and emotionally.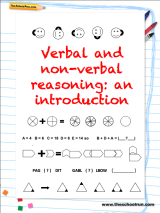 Preparing your child for the 11+?
If your child is in the last years of primary school you might be thinking about selection tests like the Eleven Plus and how to prepare for them. To help you decide on your approach we've put together an introduction to verbal and non-verbal reasoning, with expert tips, advice and practice questions and answers for you and your child.
The pack has been written to provide a general overview of the key skills tested at 11+, including practical examples of the common types of questions, hints and explanations to help you understand the solutions and play-based ways to help prepare your child at home.